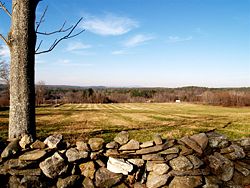 Berlin MA was first settled in 1665 and was officially incorporated in 1812. Berlin lies in a low range of hills between the Nashua River and Assabet River valleys. Incorporated in 1812, the town was a residential and agricultural community, growing mixed hay grains and raising cattle. For a period after the Civil War, Berlin was home to a large shoe factory, and shoe manufacturing and lumbering provided non-agrarian jobs. The town soon moved into specialty market gardening, sending 41,000 bunches of asparagus to market in 1885, growing hops and raising chickens. By 1940, 83,600 dozen eggs were produced annually by the poultry farmers of Berlin.
Berlin's first town house was constructed in 1831 for town meetings and social activities. Community growth necessitated the construction of a new town hall, and construction of the new town hall was started in 1869 and completed in 1870. The lot, a small piece of land facing the Meeting House Common in the center of Berlin, was given to the town by Artemas Barnes. The Memorial Hall, on the first floor, included photographs of nearly all the local soldiers lost in the Civil War. Later the photos of other Civil War veterans were added until likenesses of nearly 100 local men were collected there. In the 20th Century, war dead of World War I, World War II and Vietnam were added.
Barnes Hall, used for social gatherings, and the Selectmen's Room were also on the first floor. In 1904-1905, an addition was built at the back of the building to provide space for a kitchen and the public library on the first floor, and the stage on the second floor. Toilets were added in the 1930s. In 1998, however, the Berlin MA town hall was moved from the 1870 building to the former home of the elementary school (the school was moved into a new building). The public library was located in the Town Hall from 1891 until 1928. Barnes Hall was used as a school room in the 1870s. As recently as 1999 the locally-produced musical Swinging Into the Millennium was held in the upper hall. Two area contra dance groups have used the hall in recent years. Meetings of Boy and Girl Scouts and local youth baseball and soccer groups also are held in the building. The project of refurbishing and renovations of the Town Hall, under the direction of the Friends of the Town Hall, is ongoing.