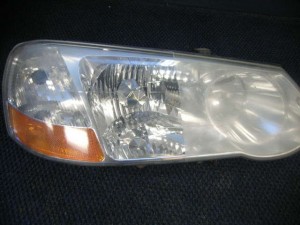 Headlights with an aged, cloudy, or hazy look are becoming increasingly common, as the average age of all cars on the road continues to rise. Plus, most modern vehicles use replaceable bulbs with plastic lenses that are more prone to discoloration, rather than the more-durable glass sealed-beam units. Fortunately, our tests show that for a modest cost, even junkyard-ready lens covers can be made clear again.
More than a cosmetic issue, clouded lenses can pose a serious threat to safety, compromising night vision and reducing the effectiveness of your headlights by up to 80 percent, based on our measurements.
Ultraviolet radiation from the sun is the primary culprit in the headlight aging process, compounded by other environmental factors. The problem tends to be most serious in warmer, sunny climates, but we've seen plenty of evidence of it in northern regions.
Call us today at 978.562.5300 to learn how we can make your headlights like new again!