OEM Certified Auto Body Repair Shop Hudson MA
Body & Paint Center Of Hudson is a full service Auto Body Repair Shop, Collision repair specialist and glass repair facility that provides the best in customer service, collision repairs, frame and bodywork, painting and re-finishing for all makes and models, foreign or domestic vehicles. Located in Hudson, MA, Body & Paint Center prides itself on employing a highly trained staff of auto body specialists.
Body & Paint Center takes every single auto body repair seriously, no matter how big or small the damage may be. Quality and integrity are our guiding principles and to ensure that every customer is satisfied, Body & Paint Center Of Hudson offers every client a comprehensive warranty on its all of our auto body repairs.
Our paint and auto body repair shop is equipped with the latest technology required to repair today's complex vehicles. Our technicians and staff are continually trained in the latest methods required in the automotive collision repair industry. Our Auto Body Shop meets and surpasses the highest standards in quality paint and repair work. Furthermore, as members of the business community we adhere to a strict code of ethics that is part of our pledge to you of honesty, integrity, safety, and craftsmanship.

Family Owned
We are a family owned business and believe that our customer needs to be treated as family. When you have an accident make sure and choose the collision center with the proven experience necessary to repair your vehicle properly.

Auto Body Repair Shop
We're a fully insured and registered auto body repair shop offering complete collision services, including frame repair, suspension and steering repair, glass replacement, and professional painting to return your vehicle to pre-accident condition.

Trained & Qualified
Choosing a qualified collision repair facility assures that the repair shop is adhering to the strict standards set in place by each manufacturer, and that they will perform safe, complete and quality repairs. Our technicians participate in ongoing i-CAR Training to stay up to date.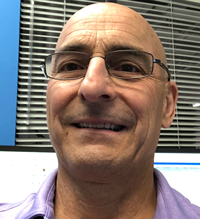 Tom Ricci
Family Owned and Operated
Tom was born and raised in Waltham, Massachusetts. In 1979 he purchased Body & Paint Center in Hudson and has managed and operated the business successfully for the past 40 years. Tom also serves as Chairman of the Assabet Valley Regional Technical School's Advisory Committee. Tom lives in Hudson.
Body & Paint Center of Hudson repaired my car very quickly. I like working with them because they are a preferred vendor of my insurance company, so they handle everything directly with my insurer. I know that my car will be returned in great condition at the right price.
Very pleased with work done on my car. I had constant updates on the progress of the repairs Everything was taken care of -insurance, rental all I had to do was drop the car off and pick it up. Thank you, great job.
I had a very positive experience. Everything was done exactly as stated. No surprises. My car looks perfect. Every one was courteous and professional. I would absolutely recommend Body and Paint Center to anyone needing work on their car.
A very positive experience. They explained estimates repair process and assisted with rental car needs. Great with updating me on progress and our vehicle looks great.
Do you need help with your car?