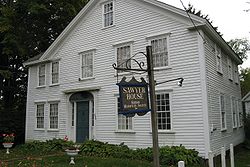 The town of Bolton was incorporated on June 24, 1738, following an influx of settlers. Town historian Esther Whitcomb, descendant of one of Bolton's earliest documented settlers, cites the recorded birth of a son, Hezekiah, to Josiah Whitcomb in 1681. By 1711, according to Whitcomb, more than 150 people were living on Bolton soil, despite a local history of Indian uprisings and one massacre. Many early houses were protected by flankers, and were designated as garrisons. Bolton's history is interesting because it is reflective of early settlement patterns in the central Massachusetts area, and the conflicts with King Philip (Metacom) and his Indian soldiers. Helene Demmer and Linda Mauro elected with their 4H group to design a town flag. Joyce LaBonte's design was chosen to be the official town flag of Bolton. The flag now hangs in Town Hall and the Massachusetts State House.
Bolton was formerly part of the town of Lancaster, but seceded along the Still River, where the current boundary line still stands.
In Bolton the population was spread out with 30.4% under the age of 18, 3.3% from 18 to 24, 31.2% from 25 to 44, 28.8% from 45 to 64, and 6.2% who were 65 years of age or older. The median age was 38 years. For every 100 females there were 100.8 males. For every 100 females age 18 and over, there were 96.1 males.
The median income for a household in the town was $102,798, and the median income for a family was $108,967. Males had a median income of $79,167 versus $50,278 for females. The per capita income for the town was $42,542. About 1.1% of families and 1.8% of the population were below the poverty line, including 1.5% of those under age 18 and 3.5% of those age 65 or over. Taxes in Bolton have increased since the 1980s in a disproportional fashion as compared to surrounding areas. This is largely due to an increased regional School budget, and lack of a commercial tax base.